---
Spine Research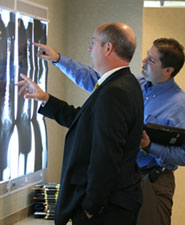 We at Sonoran Spine are committed to what you want to do. Most often we can accomplish this through conservative means and sometimes surgical. We strongly believe our research in spine leads to better treatments and outcomes for you. Our clinical research studies are fundamental to our mission.
Our research interests have included pediatric and adult scoliosis correction and outcomes from treatment, new techniques for kyphosis correction, spine trauma, osteoporosis related spine fractures, factors improving the successfulness of fusion surgery, new treatments for spondylolisthesis, degenerative disc disease, surgery for disc herniation that produces less scar, biologic enhancement of spinal fusion, bone morphogenic protein enhancing spinal fusion, sport related spinal injuries and their treatment, and work related injuries.
Click the links below to see details of our abstract submissions, podium and poster presentations for our clinical research.
---